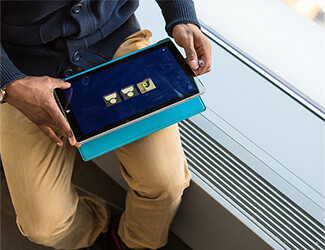 As a graduate of CUNY Brooklyn College with a B.S. degree in Business Management and Finance, Fredd understands the bottom line and can connect the dots between the IT needs of a company and the reality of today's economy. 
With more than fifteen years in the IT field, Fredd is experienced in all facets of business, corporate to sole proprietorship, and is young enough to be counted as a member of the "generation that grew up with computers." His focus on small business works well with his goal of providing clients with personalized service. Fredd prides himself on his outgoing, friendly nature and focus on staying ahead of the curve via continuous, ongoing education. The ability to speak to clients in a language they understand (as opposed to "Geek Speak") sets Fredd apart within the IT consultant industry.
Fredd believes strongly in a healthy work-life balance. In his free time Fredd enjoys running, wine, travel, cooking, home electronics, movies and digital photography.
Each business has its own set of goals and challenges. At Everything IT, we work closely with our clients to provide a clear understanding of the technology they own and work with. We treat all of our clients in a friendly and informative manner, while working to provide solutions and support that will not "break the bank" — paramount to this is understanding the budget set by the client.
We are often tasked to address special needs and circumstances. We work to find the right solutions to best fit the needs of our clients.
Julie Fareri, Esq., Fareri Associates, LP
"Fredd Fishman is the most user-friendly and competent IT professional I have ever dealt with. He is quick to respond and explains computer issues in such a way that even those with little or no experience in the field can understand. He works with you on an on-going basis and makes himself available to answer even the simplest question. He is reliable, responsive and a pleasure to deal with."
Jeff Sheldon, Bold Industries
"Fredd Fishman — and his company EverythingIT — not only excels in all the areas we were looking for listed above but he performs with a friendly smile and brings calm at all times to the his work and respect to those around him. If an honest reliable technological expert and really nice person is what you're looking for in an IT specialist, look no further. Fredd Fishman is your man."
Beautiful Faces, Make-up & Hair Studio
"Fredd Fishman has worked for us for over three years and he is amazing! Not only does he help us with all of our computer needs but he is a great person to talk with as well. He has become over the years a great friend to all of our staff. We always look forward to our visits with him. He is not only our IT guy, he is our everything guy!"